About Us
Quanex, is a locally owned business employing local people. Originally operating as Cyclad Burnie, with a name change in 2015 to Quanex, the Ranbuild dealership has been supplying the North West Coast & the West Coast of Tasmania with quality sheds since 2004.
As accredited builders we can provide you with a fully engineered kits, or a complete service including approvals, concrete and construction.
We value our customers and are committed to ensure that your shed buying experience is simple and efficient with the end result of a building that surpasses expectation.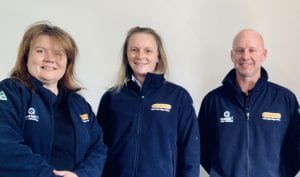 The Team
Jason, our accredited builder has 8 years of exclusive shed experience.  In his spare time he can be found playing a game of hockey, golf, or motorbike riding with his sons.
Debbie has worked in the shed industry for 14 years and would win any shed trivia game without doubt.  Deb loves spending time with her grandchildren and cooking up a storm in the kitchen for friends and family.
Petrina, our administrator happens to be married to the builder.  She also loves a game of hockey and spending time with the family & friends.
Display Yard
Not sure where to start? Visit our display yard. With a range of colours and designs to see, our staff can also show you the framing designs that make a Ranbuild shed stand out from its competitors. A must see before you make an investment into your new project.
Quanex is located at 1 Bass Highway, Round Hill. We are also fully accredited builders who can supply you with quality buildings, concrete services and construction. This means you do not have to be an owner builder or ensure there is liability insurance in place, we take care of the lot for you. We can also provide quotes on any ground works needed to prepare your site for construction.